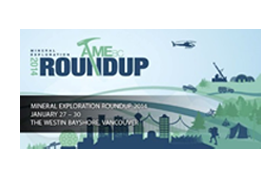 Stock Xchange attended the AME BC Roundup 2014 in Vancouver Canada, 27th-30th January. With over 8,000 attendees from over 44 countries the Roundup provided the opportunity to meet with our global clients and suppliers at one of the most progressive mineral exploration events of the year. The Roundup provides a unique combination of formal presentations, training sessions, field trips as well as investor presentations. The event also brings together investors, mineral explorers, miners and service companies representing a large number of international and North American mining identities.
Managing Director – Ross Spanbroek
"Our attendance at one of the world's leading mineral exploration events set's our intentions to position our company in emerging markets. The Roundup is one of the leading events that provides insight into progressive projects both in North America and Africa. Our attendance also provides SX with an opportunity to network with a number of our global clients and suppliers in one place. We look forward to developing new opportunities with our clients and progressive projects."
"Change is the law of life. And those who look only to the past or present are certain to miss the future."
John F. Kennedy
ABOUT STOCK XCHANGE
Headquartered in Perth, Western Australia Stock Xchange (SX) is a global service providing flexible stock management & product solutions.
SX unique 360° service provides full management of Strategic Sourcing of Products, Transportation & Freight Services, Warehousing, Technical Support and Stock Management for the implementation of stock reduction programs.
SX end-to-end solutions move businesses faster, more efficiently, more strategically allowing improved working capital and operational efficiency.